Postcard Templates
Whether you're promoting your business or just saying howdy, our postcard templates will help you create something special.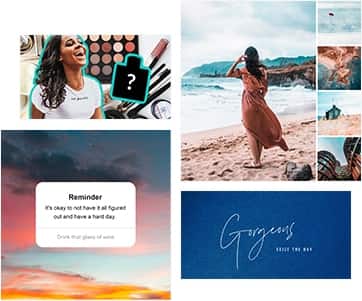 Send a postcard
If you need to send a card by mail, you'll want to create something worthy of that pricey stamp. So rather than cobbling together a mediocre missive, how about using one of PicMonkey's awesome, professionally designed, fully customizable templates?
Our postcard templates are perfect for a variety of purposes. We have some that are designed for your business, like for promoting sales or a particular product. And we have some that are designed for events, from garage sales to sidewalk sales. But the great thing is that all of our postcard templates can be modified to fit your specific needs.
So if you want to create a postcard, you know what you should do. Head on down to PicMonkey and find a fabulous postcard template that you can use to design something that will get noticed.
See more templates
Everything you need to create epic content: