Video Templates
Add a little movement to your social media posts, ads, social covers and more with our video-enhanced templates. These on-trend looks are here to stay and here to slay.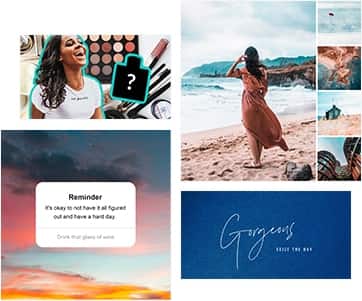 Up your game with video templates
Social posts, ads, announcements, social covers — pretty much any image you're distributing digitally is going to perform better if it includes a video clip. Research shows that video captures viewers' attention in social media feeds and on-page ads. Video is also uniquely capable of setting a mood and conveying emotion. Our video templates have video clips built into them, and they're total stunners. Customize with your own text and images, or make use of our huge stock library. With your creativity and our templates, the possibilities are endless.
See more templates
Everything you need to create epic content: